HONSUN Attent Exhibition Of Military and Civil Dual-use Technologies
---
In order to promote the two-way transformation and resource sharing of the achievements of dual-use technological innovation and accelerate the deep integration of the superior resources of the military industry and the strategic emerging industries, the Guangdong Economic Information Commission and the Zhuhai Government hosted a reception for the promotion of dual-use technologies in China (Guangdong) at the Zhuhai International Conference and Exhibition Center on June 4-5, 2018. Our company was invited to attend this exhibition.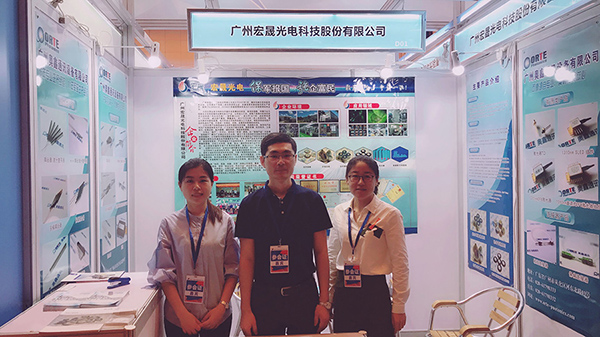 Recent years, through system innovation, mechanism innovation, scientific, technological innovation and management innovation, our company has rapidly developed into the military and civil high-tech enterprises with the largest production base for special optical fiber devices. Our company has the domestic first-class production lines for optical fiber devices and components series. With many years of research and development and technology accumulation on optical fiber device, our company has a provincial technical center and a team of senior technical personnel. Our company Has won many national, provincial, municipal scientific and technological achievements and scientific and technological progress awards.
Our company's fiber optic image transmission components and fiber optic communication components have made a lot os breakthroughs and have been widely applied in a lot high-tech fields. The fiber image transmission components have been widely used in low-light night vision, industrial display & detection, medical instruments, biometric recognition, and gene sequencing etc.. The fiber communication components have been widely used in defence, morine monitoring, aerospace, fiber optic communication, internet of thing etc..
Facing to the future, HONSUN will continue to uphold to the mission of "protecting the army and serving the country, developping the enterprise and enriching the people", stick to the management principle of "setting the position of military products and developping civilian products", insist on the thought of "people oriented, developing the company by technology and facing to the world with sustained developments", deepen reform and arouse vitality. All the HONSUN people will strive to build the enteriprise to be the leading opto-electronic apparatus listed enterprise of the world!