In 2022, newly recruited college students will receive intensive training
---
According to the company's business development needs and the overall planning of human resources, the company will introduce a number of fresh college students majoring in materials, optical information, communications, applied physics, mechanics, and law in 2022. In order to enable the new college students to integrate into the enterprise as soon as possible, successfully complete the role change, become useful talents of the enterprise as soon as possible, and increase the stamina of enterprise development, the company organized a week-long intensive training on July 4th.
The training focuses on concepts, awareness, mentality, corporate culture, ideas, values, professional ethics, accomplishments, etiquette, quality, safety and basic information related to the enterprise, focusing on teamwork, collaboration, communication, and three-item capacity building. Training, and selected a technical instructor and one-to-many on-site learning master for each college student, held a grand apprenticeship ceremony, arranged theme discussions, experiential outdoor training and other projects, with rich content and various forms. It is highly interactive and has received good results.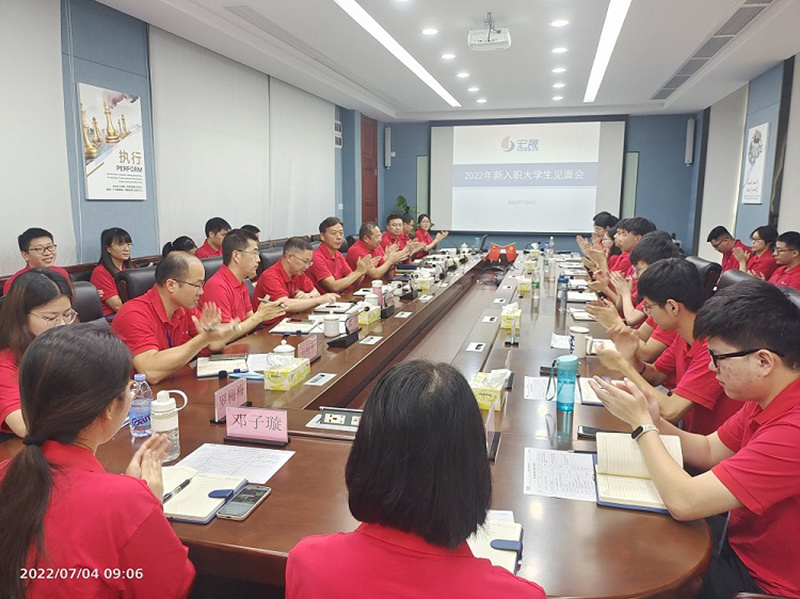 Apprenticeship Ceremony for College Students
On July 7, the apprenticeship ceremony for newly recruited college students was grandly held in Conference Room 1 on the fourth floor of the office building. 13 newly recruited college students and first-line masters participated in the apprenticeship ceremony. Company leaders, student mentors and heads of relevant departments witnessed this exciting moment.
At the teacher apprenticeship ceremony, touching scenes were once again staged. The apprentices respectfully offered tea, solemnly and forcefully swore oaths, and bowed deeply at 90 degrees. Everyone present has high hopes for the master-student pairing.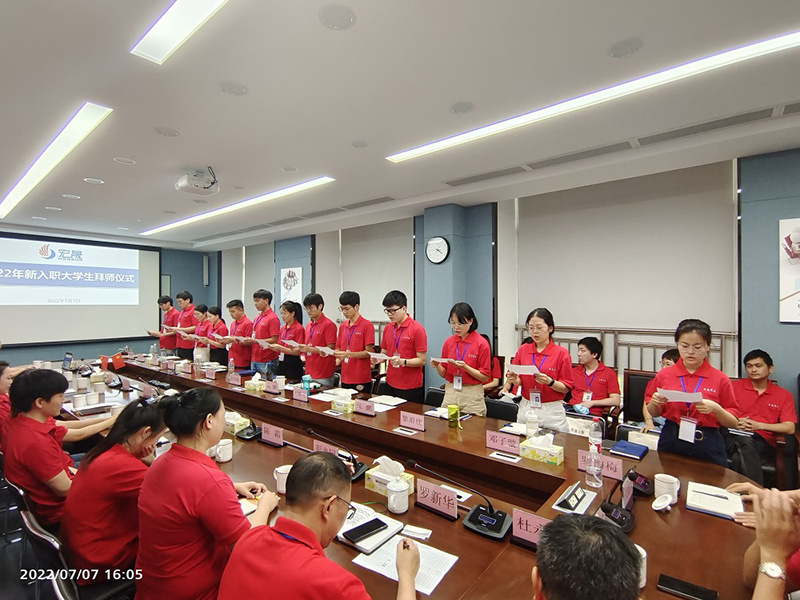 Outdoor training for college students
On July 9th, the 2022 outdoor development training for college students was launched at the three-person expansion base of Liuxihe Forest Company in Conghua. A total of 30 people participated in this expansion, including new management and technical personnel, workshop team leaders, and personnel in auxiliary positions. this expansion. Expanded projects include ice breaking, team building, style display, orienteering, code deciphering, the power of breathing, crossing blockades and power circles, etc. The whole training process was carefully planned and arranged tightly. The trainees who participated in the expansion were full of energy, devoted themselves wholeheartedly, defeated themselves, and challenged to complete each training project brilliantly.
Although the experiential outdoor training is very difficult, everyone is not afraid of difficulties and goes forward bravely. With a grateful heart and trust in their peers, the team cooperates closely and strives to complete each training project better. This not only reflects the courage of the individual and the responsibility of the captain, but also shows the team spirit of communication, collaboration, trust, and gratitude, and demonstrates the strength of an organization.
It is believed that through a week of intensive training and outward bound training, it can effectively solve the seven major anxieties of new recruits, help newcomers realize the transformation from students to professionals, give full play to their energy in the Honsun family, and become a support for the development of enterprises. Excellent talents create greater value and meet a better self.